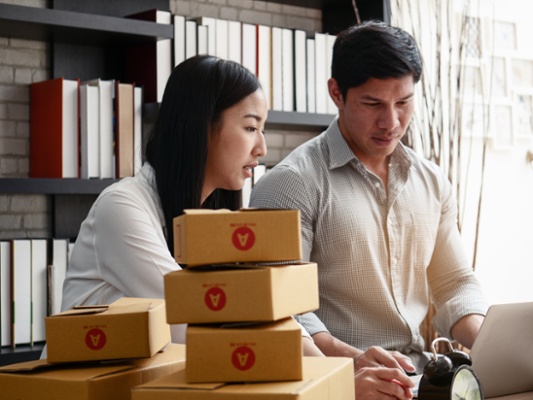 Many eCommerce business owners are completely aware of how important branding is. However, the questions come down to what kinds of branding, like custom branded packaging, actually matter and how important they are. It's obviously imperative that businesses have a distinct logo that customers can recognize and proper branding on their eCommerce websites.
That's the easy part. The real challenge is figuring out the details.
You need to know what elements matter most. What degree of branding is right for your business? For example, how important is it that your shipments arrive in custom branded packaging? Do branded thank you cards and product boxes influence customers?
Let's assume these details do, in fact, add value. Is it necessary to have all three, or is it enough to pick just one? Should every eCommerce business invest in custom branded packaging, or is it only important for certain businesses? The devil is in the details.
Since the road to hell, or in this case, business failure, is paved with good intentions, we thought it prudent to provide you with the best facts and information available. That way, instead of your business relying on the abstract notion of having meant well — especially knowing where that leads — you can pave the road to success on a much more solid foundation.
Qualities to Look for in Custom Branded Packaging
The trick to designing high-quality custom branded boxes lies in creating the right impression and unboxing experience. The packaging should project your brand's essence. That includes communicating your values, exemplifying your aesthetic, and matching your products. It needs to do all that while prioritizing functionality and staying on budget.
It should leave an impression on the customer. After all, opening the package is the first real-world interaction customers have with your brand and products. It should be both an introduction and a fulfillment of the promise you made when they ordered.
Your brand's colors and logo are a given, but what else should you look for? Well, that depends on what you sell. If you sell luxury goods, luxury details matter. That includes the inside of the box, the lettering, and any filler materials.
A pop of color or velvet on the inside, embossing or gold foil lettering, and custom branded tissue paper are great options. For companies with products focused on simple and natural ingredients, earth tones, simple crinkle paper, and recycled materials work best. The packaging should feel like an extension of your brand and products.
Creating Properly Aligned Custom Branded Packaging
Again, it's very important that your packaging, products, and brand have a cohesive feel. If your packaging doesn't properly represent your brand identity, reflect your company's values, and complement the product inside, it can negatively affect the customer journey, customer experience, and even their overall perception of your brand and products.
When you meet or exceed customer expectations, you positively impact their experience. When their expectations are challenged or unfulfilled, they are likely to be confused or disappointed. If your packaging doesn't fit well with your brand identity, values, and products, it can make the unboxing experience feel generic.
Align Your Packaging With Your Brand Identity
Ideally, your packaging should embody the look and feel of your brand perfectly. This will make the experience more unique, memorable, and personal. When done correctly, a well-cultivated and cohesive brand identity fosters a sense of individuality. This will help differentiate your brand from competitors and make it stand out in customers' minds.
Furthermore, when customers view your brand as an individual, this can promote a more personal experience, increase customer loyalty, and encourage the development of a relationship with your brand that you can nurture and strengthen over time. Customers want more personal experiences. When you deliver, you'll increase the likelihood of a purchase with 80% of them.
Align Your Packaging With Your Brand's Values
Every brand has certain values or values-based goals. For some, that might include sustainability and other forms of environmental activism. Others may have a focus on social issues. For many, it's as simple as providing the best products, price, or experience to customers. Whatever your brand's values are, make sure your packaging is in line with them.
Brands with environmentally-friendly values should ensure their packaging is made of post-consumer recycled materials, is easy to recycle or reuse, biodegradable, or is in some way good for the environment. Socially-conscious brands might ensure that their packaging and products are produced with fair-trade materials, made in good working conditions, or even labeled with reminders that a portion of every purchase goes to a good cause.
Align Your Packaging With Your Products
The products you sell are what connect your customers to your brand. They're what you're known for. Your packaging should correspond with your products. For example, imagine you bought a $50,000 Rolex watch, and it came in a plain, cheap, thin cardboard box with no insert to keep the watch in place. Wouldn't that affect your perception of the brand or maybe even your enjoyment of the product?
That's why it's so important that your packaging reflect your product. If you sell luxury products, your packaging should look and feel lush and exclusive, as well. If you sell products with branding centered around natural and simple ingredients, then your packaging should feel equally natural and simple.
Questions to Help You Choose Cohesive Packaging
To align your packaging with your brand identity, values, and products, ask yourself these questions at every step.
What does this option say about my brand?
Does it include your typical branding, like logos and colors?

Make sure the boxes are identifiable and distinct to

increase brand awareness

and differentiation.

Does it have the same tone and message your brand usually conveys?

Brands with fun or silly brand identities often add jokes, while many luxury brands use designs and text that convey elegance.
Does this option reinforce or exemplify our values?
Do the materials and production align with your environmental stance?

Does the option conflict with any of your beliefs or ideals?

Is there a feature or message that exhibits your goals or positions?
Which option best fits with the product?
Does the quality of this element match that of the product? For example, packaging for simple, inexpensive products shouldn't be ultra-luxe, and packaging for lavish luxury goods shouldn't be overly simplistic or cheap-looking.

Is the packaging the right size, shape, quality, and design for the product? You don't want too much excess space. Also, the package should keep the product safe and intact during shipping.

Does the packaging option properly frame or showcase the product to increase the perceived value, improve customer satisfaction, and make the unboxing experience more enjoyable?
Alternatives: Finding a Middle Ground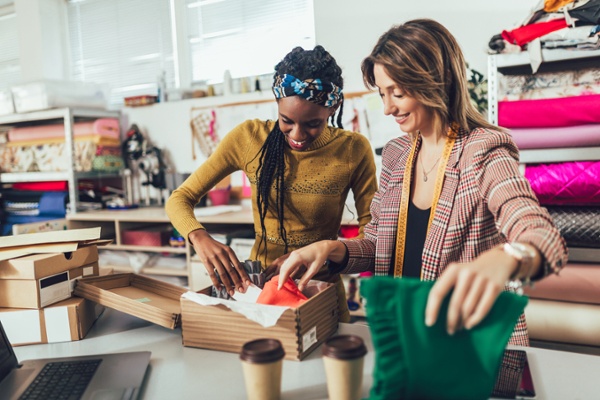 Depending on your brand and products, you may be better off with branded shipping boxes, branded product boxes, or a combination of both. However, if that's just not in the budget, little details go a long way. Custom thank you cards, branded stickers, packing tape, or stamps can be a great low-budget option. Above all, it should feel in line with your brand, so every business will have a different ideal solution.
Best Places to Buy Custom Branded Packaging
The best places to get custom branded boxes are usually large specialty suppliers that can provide a lot of options and guidance. It will also vary depending on the type of boxes or supplies you're looking for. Specialty retailers like BuyBoxes, The Packaging Company, or FedEx are always great options.
Some create custom shipping boxes, some make custom product boxes, some make branded packaging accessories like tape, stickers, cards, and tissue paper, and some can handle all three. Keep the kind of packaging you need and each supplier's area of expertise in mind when deciding what supplier to use.
Money-Saving Tips
Bulk discounts can make a huge difference, so the more you can order at once, the better. If your products aren't fragile, try thinner product boxes that still look and feel like good quality but are thinner and lower density than delicate items would require. Similarly, pick a box type with a simple design style to keep costs down.
If your budget doesn't allow for custom boxes and you're going to opt for the more affordable stickers, labels, or mailers, then you may want to go with a company like Sticker Mule, Packola, or noissue. They have quality products, years of experience, and tend to provide affordable options for branding.
The Bottom Line on Custom Branded Packaging
There are a lot of options out there, and, as with anything in business, no single thing will be a one-size-fits-all solution. However, if you keep your ideal customer persona in mind and ensure that your packaging matches your brand and products, you can create a one-of-a-kind unboxing experience that keeps customers coming back.
If you want to learn more about custom packaging or other ways to make your business stand out with customers, feel free to contact us any time!
About Eniture Technology
Eniture Technology specializes in helping e-Commerce merchants grow by providing useful information, digital marketing services, off-the-shelf apps that solve common problems, and custom programming services. Please contact us if you need help growing your online business or implementing the concepts presented in this blog post.
Interested in learning more? Check out our free guide, A Beginner's Guide To E-Commerce Shipping and subscribe to our blog!