As search algorithms and artificial intelligence (AI) gain more and more capabilities, marketers have access to a variety of advertising methods that they couldn't leverage in the past. Search ads and display ads are both viable options for increasing brand exposure and raising brand awareness. But you may have a difficult time choosing which one is best for your unique situation. Or perhaps you want to find ways to use both advertising methods effectively to get the most out of your ad spend and maximize your return on investment (ROI).
Differences Between Search and Display Ads
Before you choose the best strategy for your business goals, it's important to know the difference between search ads and display ads. This way, you're better informed about choosing which one is most likely to serve you best.
Search Ads
Also known as pay-per-click (PPC) advertising, search advertising displays ads in the search engines after a keyword or phrase has been searched. These ads are shown above the organic listings, so they are often hard to miss. This is helpful to PPC advertisers because they have a better chance of reaching their desired audience. For example, a user makes a search about a family attorney in their area. Search ad results show a number of family attorneys in their particular area. Search engine rankings have no bearing on search ads. A site that isn't ranking on the first page can still show up in the search results if using search ads.
Display Ads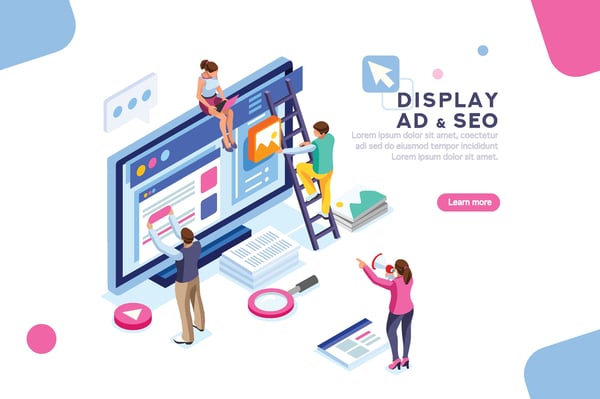 Display ads show up pretty much everywhere online, whether it's on a website you visit or on social media feeds. Display advertising tracks a user's online behavior and places ads targeted to that specific audience. The Google Display Network allows advertisers to place display ads on a variety of sites such as YouTube, Blogger, Gmail, and other participating sites. Social media platforms like Facebook and LinkedIn have display networks as well. Display ads show up in users' news feeds and aim to target them based on their behavior.
Best Use of Search and Display Ads
Now that you're familiar with search ads and display ads, you should be aware of what specific goals each ad strategy is best used to achieve. Search ads are better for targeting audiences with intent, while display ads are better for building brand awareness.
On average, advertisers make $2 for every $1 spent on search ads. This means that advertisers can double their investment using search ads. Paid ads receive 65% of clicks that start with buying keywords, while organic results only receive 35 percent. As stated earlier, search ads are best used for capturing user intent. For example, a Florida homeowner has a broken AC. The weather is getting warmer and warmer as summer approaches. They perform a Google search: "AC repair in Pensacola". In a rush to get the solution they need (a cooler home in Florida's sweltering heat), they click on one of the first search results they find: a search ad that targets the specific keyword "AC repair Pensacola".
The average conversion rate on the display network is 0.72%. That's less than one percent. So are display ads good for capturing search intent? Not really. They're more useful for building brand awareness and introducing people to whatever product, service, or solution you offer. Users aren't actively typing in a product or brand name in a search. They're browsing their social media accounts or other websites. Even if these users have visited your website in the past, they aren't likely to convert. Display ads are more likely to generate awareness of your product or service. Awareness of a product or service is only the first stage of the marketing funnel.
Re-Targeting May change the Equation
Imagine you've gotten a few visits to your website from display ads. Some visitors have viewed your product page. Others have even added things to their cart. But, still no conversions.
You can retarget the visitor with paid search or display ads, or both. Using display ads, you can remind users about your brand to boost the chances of them converting. Even though paid search is better for intent, we now have more information. They've been on your website. You can target an ad just to this person IF they search for keywords related to your ad. How effective is that? They may not do it!
Previously, display ads were an "awareness" strategy. But now you can pair it with intent! And you can display an ad for the product/service that the individual looked at on your website. Stats say that this person is 70% more likely to make a purchase if they see a display ad. How does that change the ROI decision of how much you put into paid search vs. display ads? The user probably didn't have intent when they first saw your display ad, but retargeting them can help move them down the sales funnel. With retargeted display ads, you can move a prospect from awareness to interest, then to consideration and eventually to conversion.
Tips For Smart Re-Targeting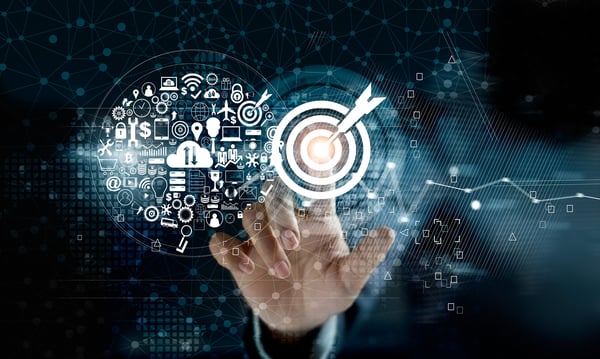 Most users won't convert on their first visit to your website. This is why retargeting has its value in advertising. Below are some things you can do to increase chances of conversion:
Don't retarget every website visitor. Instead, target users by specific actions they take on your website such as visiting a product page or filling out a lead-magnet form.
Retarget existing customers. When running ads, your top goal is to raise awareness of your brand and drive sales. But this doesn't mean you can't retarget past customers who haven't made a purchase in a while. You can upsell them on new products in your display ads.
Take advantage of social media engagement. Target users who have interacted with your posts on social platforms (i.e. likes, comments, or shares).
Use search retargeting. Show ads to users based on their search behavior. For example, you can display ads to people who have previously searched for specific keywords or phrases.
About Eniture Technology
Eniture Technology specializes in helping e-Commerce merchants grow by providing useful information, digital marketing services, off-the-shelf apps that solve common problems, and custom programming services. Please contact us if you need help growing your online business or implementing the concepts presented in this blog post.
Interested in learning more? Start with our free guide on how to increase online sales, and subscribe to our blog!