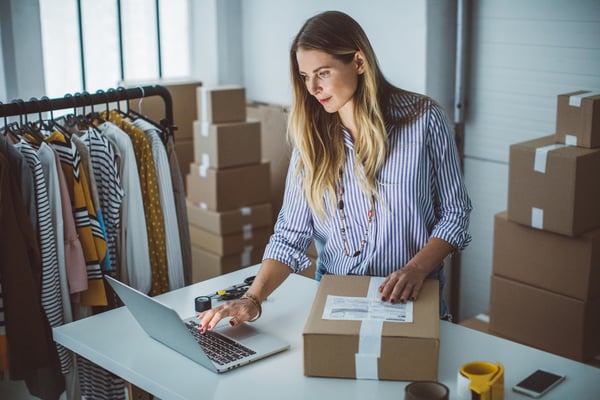 The percentage of consumers who expect free shipping is higher than ever. According to a report published by the National Retail Federation (NRF), 75% of customers expect free shipping on orders of all sizes, an increase of 7% from the previous year. Thus, e-commerce merchants are responding by advertising free shipping more than ever.
If you are new to the e-commerce industry, you may wonder how on earth a company like yours can offer free shipping and still turn a profit. The good news is that there are some simple strategies you can implement to strike a happy medium with your shipping charges. These strategies are outlined below along with some key points to remember as you develop your own approach to free shipping.
The Psychology of Free Shipping
Free shipping is one of the most powerful tools in an e-commerce merchant's arsenal. However, to fully understand the role of free shipping in e-commerce, you need to take a step back from your business to look at the purchasing process from a shopper's point of view. Consider these compelling statistics which illustrate the power of free shipping in the e-commerce industry:
90% of consumers point to free shipping as the number one reason why they shop online more
Over 60% of prospects are somewhat likely to abandon their plans to buy if free shipping is not offered
Orders with free shipping are about 30% higher in value than orders placed by customers who pay for shipping
Online prospects find offers for free shipping to be twice as motivating as offers that involve a product discount
But Can Shipping Really Be Free?
The short answer is no. There is no such thing as free shipping. However, the practice of free shipping has become so widespread, that many consumers are convinced that it actually exists. Contrary to popular belief, someone is paying for shipping. Sometimes it's the owner of the e-commerce company who absorbs the costs. But, usually, it's the buyer, who ends up paying for shipping costs in the form of inflated pricing on their purchases.
Offering free shipping can prove to be costly. Even e-commerce giants such as Amazon offer free shipping judiciously. For example, consider Allegro Original Marinade, which is available for purchase from both Amazon and grocery retailer Kroger. Amazon customers are eligible for free shipping if they place a minimum order of $25.00 or subscribe to Amazon Prime.

If you're willing to fork over $119 per year for Amazon Prime, you can pay $11.25 per bottle of this delicious marinade (it's really good by-the-way) and get "free 2-day shipping". Or you can add it to your cart the next time you're at the grocery store and pay around $3.69.
So is shipping really free? Between the $119/year Amazon collects for Prime and the inflated product price, Amazon has its bases covered. Amazon passes the cost of shipping to its customers while convincing them that shipping is free. It's a masterful job of taking advantage of the psychology of online shoppers.
Can I Offer Free Shipping Without Raising Prices?
Is it possible to offer free shipping without raising prices? Sure, but if you want to do so without sacrificing your existing profit, you'll need to see a jump in sales. It's a gamble. How many more orders will you receive by offering free shipping without inflating your prices? If your order volume increases enough, you'll collect enough to pay for everyone's shipping and possibly improve your bottom line. But if it doesn't, you may find yourself on the brink of going out of business.
So how much do your sales need to increase to offer free shipping, keep your prices the same, and remain profit neutral? It depends on your gross profit percentage.
Consider the simple example of an online store with $2M of annual revenue, an average order of $150 (not including tax or shipping), and an average shipping cost of $12 per order. The table below shows how much sales must grow for different gross profit percentages.
Starting




Gross Profit %

Sales Growth %

Gross Sales

Ending




Gross Profit %

20%
66.7%
$3.3M
12%
30%
36.4%
$2.7M
22%
40%
25.0%
$2.5M
32%
50%
19.0%
$2.4M
42%
The Starting Gross Profit % is when the customer is paying $12 (on average) for shipping. The Ending Gross Profit % is when the merchant is paying $12 (on average) for shipping. If the sales growth materializes, the gross profit dollars remain the same, but the gross profit measured as a percentage of sales will drop.
The caveat to the example is that all other factors remain the same. If the increase in sales volume will require more labor and overhead, sales will need to increase even more.
What Are Seven Proven Free Shipping Strategies?
Your ability to enjoy the fruits of free shipping hinges on the strategy you choose. In some cases, you may wish to combine multiple tactics to really jump start your sales. Below are seven free shipping strategies designed to bolster your sales and take your e-commerce business to the next level of success:
1) Choose the Most Affordable Delivery Mode to Offer as Your Free Shipping Option
In most cases, the most affordable mode of shipping is the one with the longest average delivery time. Some merchants who employ this strategy use USPS as their default free shipping option. Others use FedEx One Rate or another service that charges a predictable price so you can easily mark up your products accordingly. Customers who wish to receive their products faster can opt to pay expedited shipping costs, leaving you off the hook for higher priced delivery options.
2) Set Minimum Order Amounts to Receive Free Shipping
Companies such as LL Bean, Brooks Brothers, and Last Call offer free shipping to customers who spend a pre-specified amount on merchandise. For example, a product description may contain a caption that reads, "Free standard shipping on orders $250 or more". This strategy helps merchants absorb the cost of free shipping because large orders produce more profit than small ones. For these companies, the incremental shipping cost for the additional items is insignificant compared to the amount of additional profit they gain.
3) Offer Free Shipping on Overstock Items or Slow Moving Products
This free shipping strategy accomplishes three goals simultaneously. First, it illustrates your commitment to helping customers save money. Second, it helps you move old inventory. Lastly, it makes your customers happy. This technique is especially useful if you are trying to move season-specific or time-sensitive items in preparation for a new product collection.
4) Advertise Free Shipping Promo Codes
Promo codes allow you to offer free shipping selectively to customers who remember to redeem them. And because not all customers will take advantage of an available promo code, this strategy is more cost-effective than a blanket offer. Some buyers will initially see the promotion but later forget to reference the promo code during the checkout process, saving you the expense.
5) Feature Free Shipping as a Perk of Your Loyalty Program
According to Bond Brand Loyalty, 81% of consumers are more likely to buy from a business that offers a loyalty program. If you are among the growing number of merchants who offers a rewards program or loyalty program, then you can offer standard free shipping as an incentive for shoppers to become members.
6) Include Free Shipping as a Perk for Customers Who Buy Products From Multiple Categories
This technique is effective for merchants who offer a diverse array of products within a family of items. For instance, if your e-commerce business specializes in electronics or appliances, you can offer free shipping for customers who buy at least one product for the kitchen and one for the bedroom.
7) Offer Free Shipping as a Part of Your Email Marketing Campaign
Email marketing campaigns play a pivotal role in the success of an e-commerce business. In fact, many people are surprised to learn that email marketing campaigns are up to 40% more effective than social media marketing. You can enhance the impact of your next e-mail campaign by offering free shipping on a customer's next order. Or, you can include an offer for free shipping within the customer's order acknowledgement email for a previous order.
How Can You Analyze the Impact of Free Shipping?
Regardless of the free shipping strategy you choose, you need to assess the strategy's effectiveness. You could design the most sophisticated strategy in the world, but if you do not measure the impact on your revenue, you'll never know if your efforts were in vain. Here are three steps to help you analyze the impact of free shipping:
Step One: Create a baseline for your orders, revenue and profit. The path to an effective free shipping strategy begins by determining how your business was performing before you implement your free shipping offers. Be sure to note your overall sales volume, your profit margin, and your total sales on featured items.
Step Two: Employ a marketing platform like HubSpot to identify customers who respond favorably to your offers. A user-friendly platform like HubSpot will enable you to segment your customers according to their response to your free shipping offers. This information can prove to be valuable as you launch future promotions and customer appreciation campaigns.
Step Three: Use A/B testing to determine which strategies have the greatest potential. Forging ahead with a shipping promotion without initial testing or piloting is rarely a good idea. Rather than simply guessing which of the above strategies will have the greatest impact on your sales, you can use A/B testing to generate reliable data that can guide you in your selection process.
What Are Five Important Things to Remember About Free Shipping?
As you develop your shipping strategy, it is critical to remember that a blanket approach to free shipping is rarely the best option. The extent to which free shipping will impact your bottom line will vary according to your products' size, type, and profit margin. Here are five important things to keep in mind when contemplating free shipping:
If used incorrectly, free shipping can erode your profits and may even cause your business to go under
Free shipping is easiest to offer with small, lightweight items that cost a minimal amount to ship
If your customers start to expect free shipping, you may find yourself facing a host of new issues
Free shipping is easier to offer with high margin products, as the extra profit dollars can help cover shipping costs
Low-cost or low-margin products are not ideal candidates for free shipping
The Bottom Line
While there is no such thing as free shipping, there are some straightforward techniques you can use to appeal to the psychology of shoppers and boost your sales. By following the seven strategies above, you can begin leveraging the power of free shipping today. And if you still feel a bit overwhelmed by the complexities of free shipping, the Eniture Technology team is available to provide guidance and help you develop other best practices that will help your e-commerce business succeed.
About Eniture Technology
Eniture Technology specializes in helping e-Commerce merchants grow by providing useful information, digital marketing services, off-the-shelf apps that solve common problems, and custom programming services. Please contact us if you need help growing your online business or implementing the concepts presented in this blog post.
Interested in learning more? Check out our free guide, A Beginner's Guide To E-Commerce Shipping and subscribe to our blog!