How To Choose A LTL Freight Carrier
In today's competitive e-commerce world, offering the right shipping options can make a big difference to your company's success. More and more online merchants are discovering that LTL shipping is a cost effective option for larger orders. But how do you choose the right LTL freight carrier?
If you're unfamiliar with LTL (less-than-truckload) freight as a mode of transportation, check out our guide, LTL Freight Primer: How to make it work for your online store.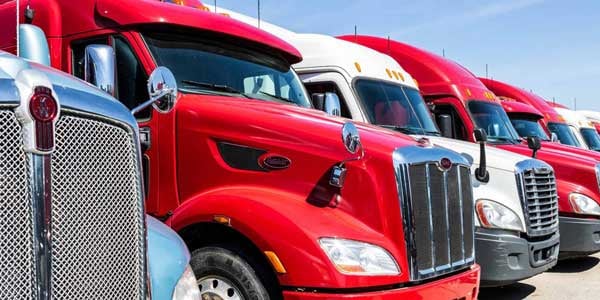 Service Area
The first thing to consider is where you need to ship to. LTL freight carriers don't all have the same service areas. There are national carriers, regional carriers, and even micro-regional carriers.
Some national carriers will cross the US-Canada border; others will not. If you have customers on both sides of the border, make sure you're considering trucking companies with that capability.
Carriers make agreements with other carriers to extend their coverage area. This is known as interlining. If you're considering a carrier that has interline agreements, make sure you find out how damage claims are handled. Finger pointing is a common complaint of shippers that use these carriers.
Price
Obviously the more you can save money on your freight quotes, the happier your customers will be. LTL carriers have very high list prices which they discount heavily. Discounts between 60 and 80 percent are common.
How deep your discount will be depends on many factors, including:
Volume
Type of freight
Transportation lanes
When comparing prices, don't get hung up on the discount percentage. A 75% discount isn't necessarily better than a 70% discount with another carrier. Instead, identify some example shipments an compare the net prices.
Cost of Additional Services
Additional services are the "other" things the carriers charges for. Residential delivery and lift gate delivery are the most common ones for e-commerce merchants. In many cases, the cost of these services can exceed the transportation charges.
Depending on how frequently you use additional services, negotiating these fees may be more important than squeezing out an extra point or two from your transportation discount.
Absolute Minimum Charge
The absolute minimum charge (AMC) is the minimum amount a carrier will charge you for your shipment. If your freight shipments tend to be on the lighter side you may never receive the benefit of your negotiated discount. Generally speaking, your LTL shipments need to be heavier than 250 pounds for the AMC not to be a factor.
Make sure that the great discount you're being offered isn't being offset by the AMC. Sometimes choosing the carrier with the lower AMC is a better choice, even if its discount isn't as good as the others.
On-Time Performance & Reliability
On-time pickup performance evaluates the carrier's ability to have a truck retrieve your shipment within the window of time you were provided.
On-time delivery performance evaluates the timeliness of the delivery relative to the carrier's stated transit time. If the service used is guaranteed by a certain time, then the time of delivery is also evaluated.
Unfortunately, on-time performance metrics are self-reported by the carriers. You may be able to find some reporting through online searches, but it won't be official data. Still, you should ask your carrier sales rep for this data. If there is a company in your business park that uses the carrier, it's worth asking them about their experience.
Pick Up Times
Make sure to ask about pick up times in your area. They can vary wildly from carrier to carrier. You may want to eliminate a carrier from consideration if its pickups for your area are early in the day.
Lift Gate & Other Equipment
If your shipments will require special equipment, find out how well equipped the carrier's fleet is. Lift gate is the most common example. If you have a frequent need for lift gate delivery, make sure a high percentage of the carrier's fleet is equipped with it. Otherwise, you may find your shipments delayed and your customer satisfaction numbers dropping.
Website & Web Services
Spend a few minutes on the carrier's website. You'll probably be using it to create bills of lading and to schedule pickups. Make sure you find it intuitive and easy to use.
If you want to give your e-commerce customers accurate, real-time freight quotes, make sure the carrier has web services that will allow that kind of integration. If you're a Magento, Prestashop, Shopify, or WooCommerce merchant, see if we have an off-the-shelf integration available for the carrier you're considering. These will be more cost effective than paying for your own integration project.
Customer Service
Test the carrier's ability to provide you with an acceptable level of customer service. Check their website to confirm that a phone number for customer service is easy to find. Call the phone number to see how easy it is to connect to an agent and get a question answered. You want to uncover how responsive the carrier is before you commit to using it, not once you really do have a problem.
Limits of Liability / Insurance
A carrier's limit of liability is the maximum amount it will pay out when settling a damage or loss claim. It can be expressed in many ways. The most common way is by a rate per pound, or a total dollar amount. These amounts may vary by freight class.
Limits of liability differ greatly between carriers. Budget carriers have much lower limits than others. Make sure that the value of your typical shipments would be covered by the carrier in the event a damage or loss claim were to occur.
Damage Rate
You can get a sense of how likely you may have to file a claim by inquiring about the carrier's damage rate. Most carriers keep up with this stat. Consider doing some online research to see if there are any recent articles that report the damage rate of the carriers you are considering.
Investigate The Claims Process
By now you've probably eliminated several carriers and are considering just a few. Reserve this step for your shortlist. Ask the sales representative to explain the company's claims process. Here are some important questions to ask:
After a shipment is delivered, how much time do I have to initiate a claim?
What's required of me when I file a claim?
How long do I have to provide the information required?
What's the average length of time it takes you to settle a claim?
What percent of fully documented claims are paid?
About Eniture Technology
Eniture Technology specializes in helping e-Commerce merchants grow by providing useful information, digital marketing services, off-the-shelf apps that solve common problems, and custom programming services. Please contact us if you need help growing your online business or implementing the concepts presented in this blog post.
If you are interested in offering LTL freight as an option on your online store, take advantage of our free guide on LTL freight.