What is Lift Gate or Liftgate Service?
Not all freight deliveries are made to shipping docks or to receivers who have a forklift. Businesses that rarely receive large freight shipments won't invest in the infrastructure needed to load and unload freight items. The same is true for residences. Liftgate service is used when a freight dock or forklift isn't available at the pickup or delivery location.
What does liftgate service mean?
Liftgate service is an additional service offered by freight carriers when picking up or delivering freight. It requires the use of a hydraulic lift (called a liftgate) installed on the back of the truck. The liftgate is used to raise material from ground level to the level of the truck bed and vice versa.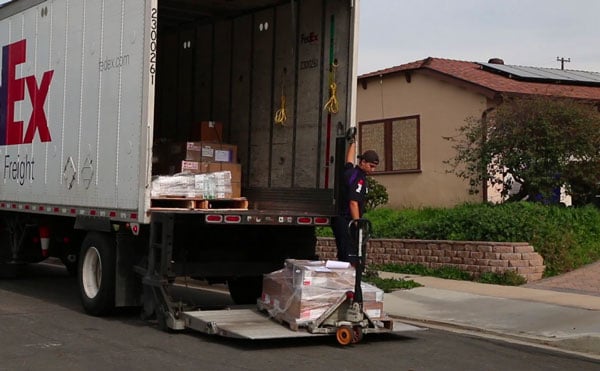 Liftgate service is required when you have freight that is too heavy to lift, and you don't have a loading dock or forklift. How heavy is too heavy depends on the carrier. The service is called Liftgate Pickup or Liftgate Delivery depending on where the service will be provided.
When liftgate service is performed, the truck driver will move your freight onto and off of the liftgate platform. If it's a delivery, you'll need to move the freight after it's off the liftgate unless you also purchased a service called Inside Delivery.
In countries other than the United States, tailgate is used in place of liftgate. In the United States, it's not uncommon to see liftgate expressed as two words: lift gate.
How much does liftgate service cost?
Freight carriers charge for liftgate service. How much you pay will depend on the carrier, the weight of your shipment, and where the service is provided. Most carriers charge a rate per hundred pounds of freight and have a minimum and maximum charge. In the article, A Comparison of LTL Freight Additional Service Fees, the fee for liftgate service is shown to be as little as 85 dollars and as much as 500 dollars.
You may be able to negotiate a discount for liftgate service if you're willing to commit a certain number of your shipments to a given freight company.
Make sure liftgate service is available
If you want to open an account with a freight carrier, and you'll need liftgate service often, find out what percentage of its fleet has a liftgate installed. You probably won't be happy with the carrier's service if it's low.
Shipments will sit on a freight terminal's dock when liftgate delivery is required and a suitably equipped truck isn't available. If the number of liftgate equipped trucks is low, it may take several days for a truck that can make the delivery arrives at the terminal. You could have an unhappy customer on your hands if the wait is too long.
Similarly, you could find yourself waiting for days for liftgate pickup if you're relying on the wrong carrier.
Watch your shipment weight
You need to watch the weight of your handling units when using liftgate service. There are limits to the amount of weight that these hydraulic lifts can handle. Some carriers will have a single weight limit, like 2500 pounds.
Other carriers, like R+L Carriers, have different types of liftgate equipped trucks that have different limits. R+L's website lists three:
C-Trucks have a 2,500-pound capacity
Trailers have a 3,000-pound capacity
B-Trucks have a 5,000-pound capacity
If a carrier has to make a liftgate delivery and the weight of the handling unit (such as a palletized or crated shipment) exceeds the weight limit of the liftgate, the truck driver will have to break the handling unit down. You'll be charged for this activity.
If the handling unit can't be broken down, the truck driver will return the shipment to the terminal. At that point, you'll be making other arrangements, which could be paying to have the shipment returned to you.
About Eniture Technology
Eniture Technology specializes in helping e-Commerce merchants grow by providing useful information, digital marketing services, off-the-shelf apps that solve common problems, and custom programming services. Please contact us if you need help growing your online business or implementing the concepts presented in this blog post.
If you are interested in offering LTL freight as an option on your online store, take advantage of our free guide on LTL freight.