As an eCommerce merchant looking to grow your business, you're constantly making important decisions. Which company you choose to use for ground shipping is one such decision. Because FedEx and UPS offer similar services, you should take the time to compare the benefits to see which is the best option for your business. Below, I'll suggest things you should consider when conducting your FedEx Ground versus UPS Ground comparison.
Ground Shipping
Ground shipping is a very popular option. In fact, a recent UPS Pulse of the Online Shopper study showed that 71% of online shoppers select ground delivery during checkout. But, are all ground shipping options created equal? No. While FedEx Ground and UPS Ground both pick up and deliver packages, there are a number of differences between these two companies. Once you start to compare these differences, you may find that there are stark contrasts which make the best choice for your business crystal clear.
What Should You Compare?
Price for Delivery
Price is obviously one of the biggest factors when it comes to making shipping decisions. Indeed, it's important to know exactly how much you'll be paying. Don't make the mistake of comparing published rates. You need to compare your UPS and FedEx negotiated rates. Use sample shipments to ensure you are receiving apples-to-apples comparisons.
Delivery Days and Speed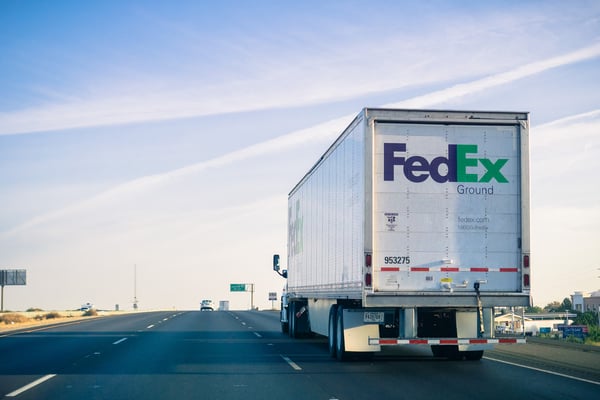 Another factor to consider is delivery speed and delivery days available through each service. The best way to check how quickly a package will arrive at its destination is to check the time-in-transit maps. It's important to check both the FedEx Ground Transit Map and the UPS Ground Transit Map for your shipping location.
You'll probably find that the Ground Transit Maps of FedEx and UPS are different. How can this be an advantage? Consider each carrier's one-day footprint. Using the carrier with the larger one-day footprint allows you to offer more people next day delivery at a rate that can be as much as 75% cheaper than next day air service. If your competitor is using the other carrier, you just gained a sizable competitive advantage. Similar opportunities are possible when looking at the FedEx and UPS Ground Transit Maps for two day delivery. While the cost savings of Ground service over 2-day air service aren't as substantial, they are still significant and worth being mindful of.
Delivery speed is one of the most important factors when it comes to making shipping decisions. According to the UPS Pulse of the Online Shopper Report, 26% of those surveyed said they abandoned carts because the estimated delivery time was too long. And 23% said they abandoned carts because the items weren't going to be delivered in time. The one-day and two-day footprints of FedEx Ground and UPS Ground services are important factors to consider.
Fees
Both FedEx and UPS have additional fees that they'll charge in certain circumstances. The fees are similar if not identical. The most common fees encountered by e-commerce merchants are:
Additional Handling - Charged when the package weight or dimensions exceed certain thresholds, or when the package is not a rectangular corrugated cardboard box.
Address Correction - Incurred when the carrier has to correct and incorrect or incomplete address.
Delivery Area Surcharge - Applied when the recipient's address is in a ZIP Code the carrier has decided will be subject to this surcharge. These areas tend to be rural in nature.
Large Package - Added to the shipping cost when a package's length (longest dimension) plus girth (2 x width) + (2 x height) exceeds 130 inches or the length exceeds 96 inches.
Residential Surcharge - Charged when the recipient's address is a residence, including businesses operating out of a residence.
If you are (or will be) incurring any of these fees often, make them part of discount negotiations. Getting a discount on a fee you're charged for frequently may determine your preference for FedEx or UPS.
Pickup Times
The later a carrier will pick up packages the better. Getting orders out the same day is a quick way to make your customers happy. But if your pick up time is too early in the day, that could prove to be an impossible task. A late pickup time will allow you to get all your orders packed and ready before your carrier arrives. Check the pickup times and options in your area before making your decision between FedEx and UPS Ground.
Proximity and Cut-Off Times for Drop Boxes
You don't have to schedule a pickup to tender your packages to FedEx or UPS. Both companies have drop boxes and staffed facilities that you can take your shipments to. When you do, you'll avoid pickup fees. If you're a new online merchant with low order volume and packages that will fit, using a drop box may become your preferred way to tender shipments.
Drop boxes and staffed facilities are also good options for last minute shipments. They are usually the last locations to be picked up each day, and your last opportunity to get that last minute, hot order on its way to your customer.
Use the FedEx Drop Box Locator and the Drop Box Locator to view the locations and cut-off times in your area. Which company has more convenient options? Proximity is important, but not always the best determining factor. For example, there may be FedEx and UPS drop boxes in your business park. But if they both have a 5:30 PM cut-off, they aren't going to be useful if you have last-minute orders after 5:30 PM. Using the drop box locators, you may find that two miles away, one carrier has a drop box or staffed facility which happens to be on the route you take home each day.
FedEx Ground
FedEx Ground is used for packages up to 150 pounds and can be used for delivery Monday through Friday. It's important to remember, when comparing FedEx to UPS Ground that FedEx Ground does not provide Saturday deliveries. FedEx Ground does provide pickup and drop off options for your packages. When scheduling pickups, you can choose from One-Time Pickup and Recurring FedEx Pickup. If you ship regularly and require pickups, you might consider their recurring pickup option. FedEx offers customizable options, so they can come only on the days you need them. It should be noted that there is a fee for pickups, but with a customized recurring pickup, they'll waive the fee for weeks you don't require pickup service. If you'd rather use their drop-off option, you can drop shipments at any FedEx Office, at participating locations, such as Walgreens, select grocery stores, or their FedEx Ground drop boxes.
FedEx Home Delivery
Another FedEx option is FedEx Home delivery. This is used for packages up to 70 LBS. There are two major benefits to FedEx Home delivery. The first is that they have a Saturday delivery option for no additional fee. So if you want to ship through FedEx (and your package is under 70 LBS) and you need the package to be delivered on Saturday, this would be the ideal option. The second benefit is that, if you're delivering to a residential address, there isn't a separate residential delivery fee. This is extremely beneficial because both FedEx Ground and UPS Ground charge a residential delivery fee.
UPS Ground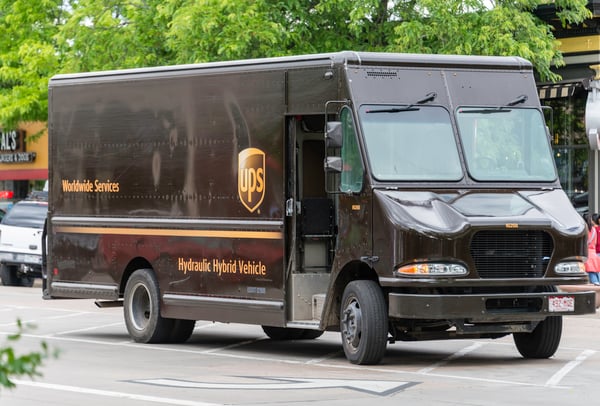 UPS Ground, unlike FedEx Ground will delivery your packages on Saturday, and UPS recently did away with its Saturday delivery fee. If your package is over 70 LBS and needs to be delivered on Saturday, this is your only option. UPS Ground also provides several pickup options, but there is a fee associated with each one. The fees vary from a little over five dollars to thirteen dollars depending on which option you select. You can choose On-Call pickup, requesting that a drive pickup on the same day or a future day. There is no limit on the number of packages for this option. You can also do UPS Smart pickup. This uses technology so that when you print a label using a UPS shipping system it automatically notifies a UPS driver top stop and pick it up. There are also Day-Specific, Daily On-Route, and Daily Pickup options available. UPS Ground also offers UPS drop boxes if you would like to drop your packages off instead of having them picked up.
Learn More About FedEx Ground vs. UPS Ground
If you do your research and compare these two delivery options for your specific needs and location, you'll likely find that one of them is a better fit for your company's needs. Making an informed choice will have a positive impact on your business and save you a lot of stress, time, and money.
About Eniture Technology
Eniture Technology specializes in helping e-Commerce merchants grow by providing useful information, digital marketing services, off-the-shelf apps that solve common problems, and custom programming services. Please contact us if you need help growing your online business or implementing the concepts presented in this blog post.
Interested in learning more? Check out our free guide, A Beginner's Guide To E-Commerce Shipping and subscribe to our blog!